Early Years Positive Handling
Positive Handling Introduction Video:
Early years positive handling training course
We have provided training to Nursery and Early Years settings over the years and our strategies have met with success.
We adapt our de-escalation strategies for the early years context but look at all behaviour through the filter of the Kaplan-Wheeler model for distress related to 'lashing out' and other potentially harmful expressions of frustration, anxiety and aggression.
In our experience working with Early Years contexts, there is a prevalence of Communication Difficulties (with English as a second language) and with children who are non-verbal.  This is often where the difficulties for staff arise.
Our non-escalation and de-escalation for early years focusses on the same strategies we use for Emotionally Distressed Persons, namely:
 Reducing Stimulation
 Using Adapted Communications (elevated Non-Verbal Signalling)
 Meeting Unmet Basic Needs (SCARF Model)
 Removing the Audience and Supporting the Distressed Child
A key point to our physical skills toolbox is that we deploy team-based holding procedures for early years staff, preferring these over single-person interventions for reasons of safeguarding, tactics, manual handling and guidance laid out by Sir Herbert Laming ("Interpretation of the Children Act").

Our team are specialists in crisis behaviour and physical interventions, and while we may not have an Early Years 'specialist' on-team, I believe that we can deliver a beneficial, appropriate and relevant course for your staff.
This is a specific Positive Handling course for educational environments focussed on Early Years.  We train a group of your staff in the knowledge, skills and judgement required to manage crisis behaviour in the Early years context and use physical interventions, as an absolute last resort where prevention fails, to keep young children safe from distressed behaviour which may be harmful.
WHAT:  a tailored course for your school team which is based on the Department of Education Guidance on the Use of Reasonable Force.  It is based on an educationally accredited OFQUAL-recognised BTEC vocational qualification in Positive Handling.
WHEN:   on a day of your choice for an INSET or Twilight session (see FORMATS above).
WHERE:  at your school, in a classroom or gym hall large enough to carry out the training safely
HOW LONG:     See the FORMATS tab alongside for options which suit you.
WHO:  Teachers, Learning & Support Assistants, Deputy Heads, Head Teachers, Governors can all benefit from this course.  Our typical groups are teams of up to – or multiples of – 12 staff.   We can by arrangement train whole-school groups.
WHY: ✓ Matched to your Positive Handling needs ✓ Led by Professional Positive HandlingTrainers ✓ Legally Audited to match DofE Positive Handling Guidance ✓ Fully Risk-Assessed Positive Handling Training Plans ✓ Values Dignity and Respect for appropriate Positive Handling ✓ Safeguards Children's rights during Positive Handling interventions ✓ Offers School Staff Practical Options for Positive Handling ✓ Compliant with Positive Handling Government Regulations ✓ Value for Your Positive Handling Investment
If your staff team are considering the restraint of a child at your school using physical interventions according to a positive handling plan, then our training will assist you in carrying out interventions in a lawful, professional and sensitive way which reduces overall risk.
Other course options include:
Your staff will explore and develop an understanding of early years positive handling and be able to describe with understanding: 
Health and Safety provisions for managing safety in the school workplace (Duty of Care).
Department of Education Guidance on "The use of Reasonable Force with pupils" for Positive Handling
Definitions of Powers from Education & Inspection Act Section 93 for the use of restraint and Positive Handling
Communications and De-Escalation Principles for Common Scenarios in Early Years.
Practical risk-reduction to protect and safeguard school staff and their pupils during Positive Handling
Importance of Positive Behaviour Support plans and Positive Handling Plans for pupils
The risks inherent in Restraint/Positive Handling interventions and how to reduce or avoid them.
Positive Handling Control, Escort and Holding Techniques for Non-Harmful Control of Children and Young People
We offer numerous options for training your staff in early years positive handling:
One Full Early Years Positive Handling Day:   9am to 3pm on a day when you can release your team…
This option gives your staff the most practice time and question/answer time with the trainers.  Assimilation of the material and retention of the physical skills is optimal with this duration.  Schools will usually choose this option if they have a well-identified need for training in physical interventions with particular high-risk children. For dedicated SEN, Learning Disability or EBD settings we also have a 2-day option which is recommended for higher-risk care environments.
---
Half Day or Twilight Early Years Positive Handling Session:  AM, PM or After-School on ANY date convenient for your team…
Sometimes a school with limited time, or with infrequent incidents at a low level of risk will need our concise half-day course.  We can use prior-learning materials with online video and presentations to prepare your staff on theory, and then spend time with them on the physical skills when we come onsite.   Half-Day and Twilight sessions can start at 0930 or 1230 or 1530 for example.  Flexible to your schedule!
---
60 min or 90 min Early Years Positive Handling Briefing:  when time is of the essence and you need basic information quickly…
This is a legal briefing on the rules and principles of physical interventions in school settings only, with no physical skills development for the staff.  It can be useful to establish a baseline of knowledge school-wide or to give the management team essential knowledge.  We sometimes begin one of the above options (a full or a half-day) with a Whole-School legal briefing to baseline your team's understanding.
---
Blending all of the above options:   for the best fit of critical information for the right teams…
Depending on where the risks have been identified, schools will blend all of the above to get the right level of training across all of their staff team.  Just get in touch to start a discussion about how we can best meet your Early Years Positive Handling needs and your budget.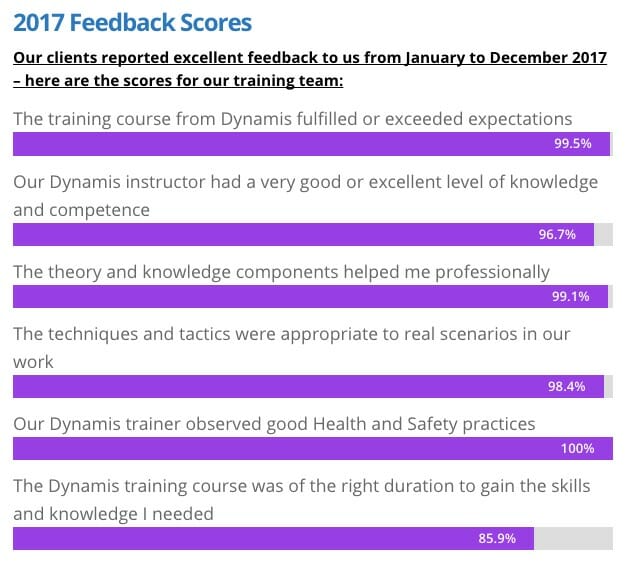 Read our complete feedback comments and scores here.
This 1.5mb PDF contains all the information above in a handy document format which you can download and print for your management review and exploration.
An excellent, well presented and relevant course that provided so much knowledge without overloading attendees to carry out the actions needed for the situations presented. I cannot rate this course high enough.
"I wasn't really sure what to expect but the course was well balanced with a lot of practical experiences. Trainer was engaging but thorough and answered all questions"
"Very professionally run. As an LSA that works directly with children who have the potential for me to have to use this kind of training on any given day, it was very insightful."