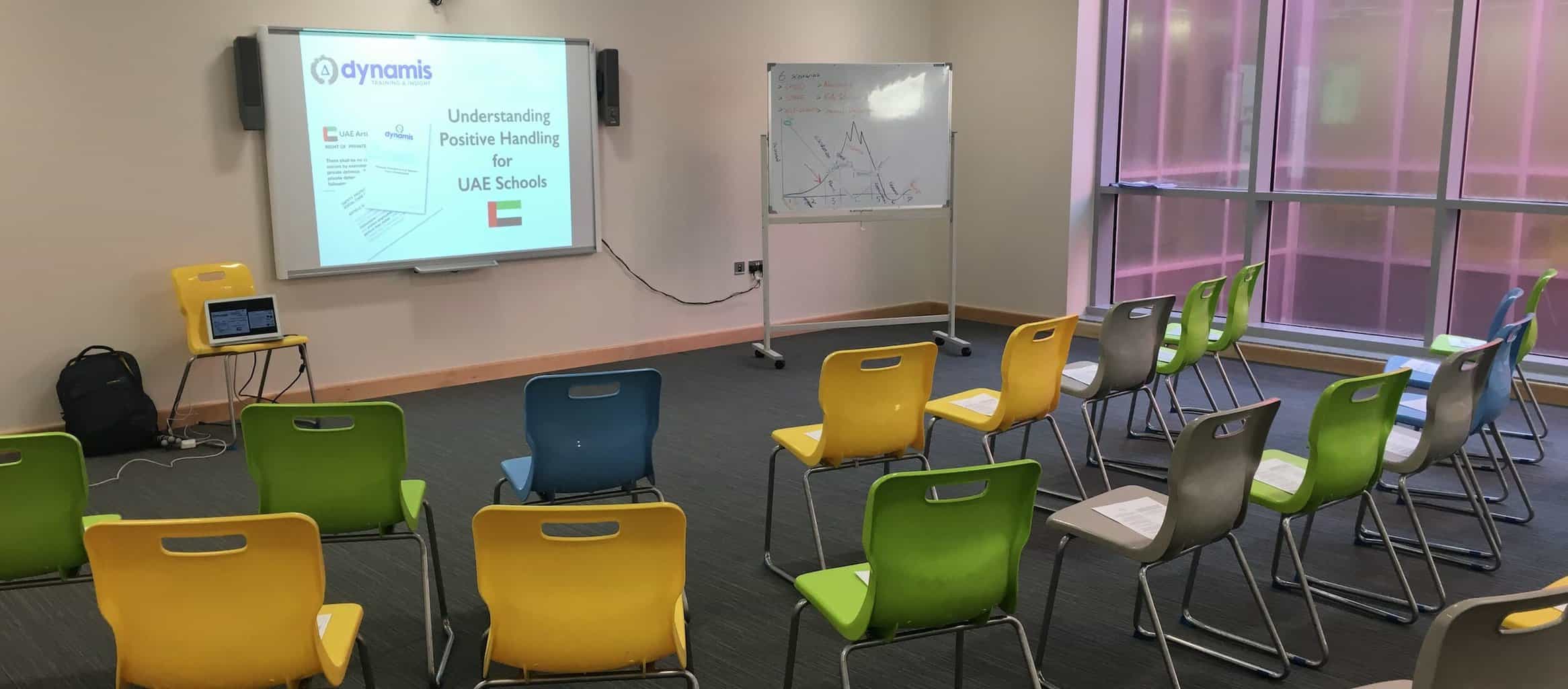 Welcome to Dynamis Positive Handling for International Schools
Dynamis has been operating in the UK since 2006 (and in the UAE since 2008) when we first started delivering courses for schools and teaching staff in the areas of de-escalation, personal safety and protective physical interventions.
In the UK, this type of training in schools is called "Positive Handling" and we are one of the most active training providers in the sector, known for our pragmatic, fresh and relevant approach.
We have delivered multiple training courses in international settings, including for the Abu Dhabi Healthcare Authority (HAAD), Abu Dhabi Education & Knowledge (ADEK), the Qatar Ministry of Education and the Dubai Healthcare Authority (DHA) in settings where staff are dealing with the sometimes harmful results of often vulnerable children who are presenting with difficult, distressed or dangerous behaviour.  Our work has taken us around the USA, other parts of the GCC (Kuwait, Bahrain, Oman) and we are establishing new clients in South-East Asia.
Our current speciality in the UK is Positive Handling and Behaviour Management training and our services are in demand from a wide range of schools:
Mainstream Primary Schools and Secondary Schools
Pupil Referral Units (Alternative Provision)
Special Schools and Nurture Units
Inclusion Teams and SENCOs supporting children of determination.
Independent Behavioural Support Services
Those receiving our training include any staff working at a school with children who present behaviours which might be harmful, including those with:
Autism or Attention-Deficit Hyperactivity Disorder
Emotional or Behavioural Difficulties
Developmental Trauma or Attachment difficulties
 Learning Disability
 Mental Health Problems
 …or simply those children who struggle to settle-in to school.
The kinds of staff who benefit from our sessions, which cover management-level planning, reporting and control information as well as frontline, pragmatic tactics for everyday use are:
Parents, Governors and Head Teachers

Deputy and Assistant Head Teachers

Inclusion Managers and Learning Support

Special Educational Needs Coordinators (SENCo)

Classroom Teachers and Teaching Assistants and Learning Support Assistants
While working internationally since 2007 our team has gained a huge amount of experience in working within the mixed socio-cultural expectations and norms which are prevalent. Dynamis prides itself on cultural sensitivity, appropriateness and a collaborative, problem-solving approach to the management of potentially harmful behaviours with children.
In the next few sections below, I will endeavour to set-out our proposed training for your teams and hope that you will provide feedback as to any elements which you find particularly important or ones which you would prefer to de-prioritise in our proposed training with your organisation.
Many thanks,
Gerard O'Dea,
Director of Training, Dynamis Insight
Since 2016, our client list in UAE and beyond has grown and grown: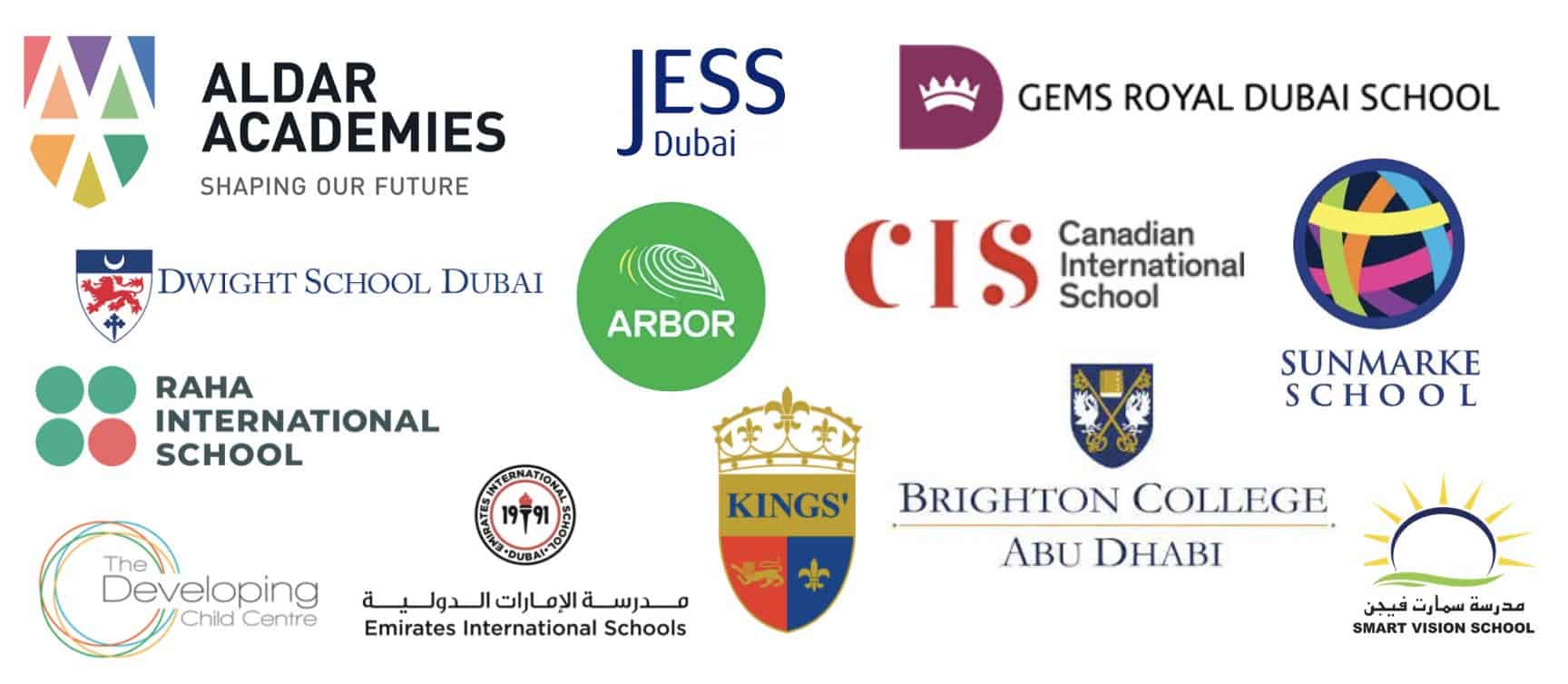 With enquiries from Hong Kong, Mainland China, Oman, Qatar and beyond, we will continue to find the best solutions to helping international schools with the challenges of positive interventions.
Six Learning Outcomes for Positive Handling in International Schools
In brief we focus on the following:
"KNOW AND UNDERSTAND" learning outcomes:
A Knowledge-building programme which develops Positive Handling decision-making skills:
 Staff duty of care under local law in regard to incidents of safety at work
 Staff legal rights and powers under local law to use force with a child to stop them harming themselves or others
 The risks inherent in physical interventions and how to avoid them or minimise them
 How to write a professional incident report to record what happened
"DO" learning outcomes:
Explore with your school staff appropriate and effective practical skills:
 Communication strategies for gaining voluntary collaboration (de-escalation)
 How to safely approach, prompt and escort a distressed child from place to place where possible
 How to appropriately gain control of a child who is at risk of harming themselves or others
 How to hold and immobilise a distressed child who is in crisis. to create safety.
 Protection from Biting, Kicking and Spitting during a period of safe holding
 Standing, Seated and Kneeling variations for the control of different scenarios
 Self-Protection and Disengagement method for high-risk scenarios

 

The trainer had the right level of fun and seriousness for the task at hand.  Communication prior to the training, during the training and subsequent to the training has been spot on.  The online resources were useful and supported the learning of my team especially in duty of care to themselves. – Inclusion Manager at a Dubai School, October 2017

Excellent course, highly skilled trainer and much needed professional development. Thank you! – Inclusion Manager at Abu Dhabi School, October 2017

Really enjoyed the course. Wish their was a two-day option where verbal de-escalation techniques could have been further explored along with additional practice of handling techniques. You know the training session has been great when you leave a PD opportunity wishing for more! – Special Educational Needs Coordinator, Abu Dhabi, October 2017

Gerard was a great presenter–knowledgeable and engaging.  It was a good mix of straightforward instruction (penal codes, rationale, etc.) and interactive practice. – Head of Inclusion, Abu Dhabi Group of Schools, October 2017

It was a very full day of training but the trainer clearly knew what he was talking about and was very clear with any instructions and guidance. I feel much more protected on my right to put myself first and how this relates to UAE laws and guidance.   The pre-course training felt like a lot initially but I think this is a good idea as it allowed us to have more practical time on the course and less teacher talk. This was presented well.   Thank you. – Head of Foundation Stage, Abu Dhabi school group, October 2017

The scale of instruction was excellent, I appreciated how the final skill set was built layer by layer enabling a novice to learn useful skills in a short time period.  I also appreciated the sincerity with which the instruction was held.   – SENCO, Dubai School, October 2017

Great course! Online training was a perfect compliment to a well delivered, well constructed, relevant 'taught' day. Thank you. – Primary School SENCO, Dubai School, October 2017                   
TRAINING TOPICS FOR UAE SCHOOLS POSITIVE HANDLING:
Topic 1)  Understanding Behaviour: Staff will be able to use a common framework to describe the phases, intensity and risk level of behaviour they are dealing with.
Topic 2)   Non-Escalation and De-Escalation Tactics. Staff will be able to apply a range of different verbal and non-verbal tactics which are non-physical, to reduce the risk of escalation or to defuse situations which are escalating.
Topic 3) Understanding 'Duty of Care'. Staff will be able to make decisions based on a clear understanding of what their duty of care demands of them in crisis situations.
Topic 4) Understanding the Legal Power to use Reasonable Force. Staff will be able to describe the legal principles which underline their right to use physical force in different scenarios and to know when it is right to (and when it is wrong to) use physical force according to local statute.
Topic 5)  Understanding the Risks involved in Physical Interventions. Staff will be able to recognise situations of high-risk and to avoid introducing actions into a scenario which would heighten the risk of serious injury or death during an incident.
Topic 6)  Carrying out Safer Holding and Physical Intervention Procedures with Children.  Staff will be able to apply the principles of safe intervention with children in a school environment to a number of key scenarios which often occur.
Sensitive delivery of Best-Practice Approaches
When planning and designing our courses for delivery in new environments, Dynamis training consultants will explore the cultural, social and occupational differences which may affect the attitudes and behaviours of staff in their operational roles and during our training sessions with them.
For example, in the GCC/MENA countries, Dynamis takes careful consideration for the particular cultural requirements regarding gender, religion and the social rules which affect daily operational decisions in the multi-cultural environment.
Furthermore, because of differing legal, operational or clinical environments, the training is adapted to fit within the day-to-day context of your service and your organisation. Our function is to work alongside you in identifying your existing approaches, and to facilitate your improvement efforts where necessary.
In essence, we endeavour to train and advise sensitively and respectfully, for the benefit of management, staff and the vulnerable people you look after.
Dynamis international training programmes aim to:
Provide training which is culturally and ethically consistent with your hosting environment
Provide trainers who can share knowledge effectively in a multinational, multicultural setting.
Empower staff to feel safer and more professionally confident in challenging situations.
Promote the highest level of safety, security and human rights for vulnerable people.
Enable policies and procedures to be upgraded to world-class standards.
Video Examples of our Course Delivery Introduction to our Positive Handling courses for schools:
https://www.youtube.com/watch?v=A6aq7aJUM_w
The Six Scenarios that Schools ask us to help with:
https://www.youtube.com/watch?v=aki5V2CfURE
Our learners practicing Conflict Management / de-escalation tactics
https://www.youtube.com/watch?v=_dFn7E07EH8
Our Core Values and Communications Approach:
https://www.youtube.com/watch?v=6vagjdiqdek
How can Online Training help us? (with feedback)
https://www.positivehandling.co.uk/positive-handling-online-training/
"Gerard is a competent and confident instructor. He was mindful of our restrictions as Muslim women working with a male instructor. He treated us with dignity and showed us respect. Gerard used several different approaches to engage us which resulted in greater participation. He continuously emphasized the importance of safety rules and the negative consequences if they were not adhered to. I feel that Dynamis encourages individuals to use effective communication and active listening in the first instance. Positive handling is used as a last resort and should be implemented professionally and calmly. I plan to use the extensive online materials that Gerard shared with us to develop myself further. Thank you"
"The scale of instruction was excellent, I appreciated how the final skill set was built layer by layer enabling a novice to learn useful skills in a short time period. I also appreciated the sincerity with which the instruction was held."