One full day of positive handling training
OUR MOST POPULAR POSITIVE HANDLING TRAINING COURSE FOR SCHOOLS.  WE TRAIN A GROUP OF YOUR STAFF IN THE KNOWLEDGE, JUDGEMENT AND SKILLS REQUIRED TO USE PHYSICAL INTERVENTIONS.
"Positive Handling Training is often VERY detailed and complex; what made the Dynamis training different – and better! – was that it was simple and clear. There wasn't too much to remember and it was all taught and set within a framework of common sense and the practical day-to-day activities and situations that arise in a school.
The pre-course information around the legislation underpinning positive handling also gave me the confidence to know I am legally and professionally in a position to use positive handling without an excessive risk of negative repercussions.
I was able to put the training into practice immediately and, several weeks later, can still use the training without looking back at the materials. THANK YOU. "


Learning outcomes for Positive Handling Training:
Your staff will explore and develop an understanding of:  
 How to balance their own safety with the safety of the other children and that of the distressed child. (Duty of Care).
 How to comply with the Department of Education Guidance on "The use of Reasonable Force with pupils" for Positive Handling
 What Powers are granted to them by the Education & Inspection Act Section 93 for the use of restraint and Positive Handling
 How to effectively use Communications and De-Escalation Principles for Common Positive Handling Scenarios in Schools.
 How to physically protect and positively safeguard themselves, their colleagues and their pupils during high-risk incidents.
 To recognise the importance of Positive Behaviour Support plans and Positive Handling Plans for pupils
 How to identify, reduce and avoid the risks inherent in Restraint/Positive Handling interventions.
 Specific Physical Skills and tactical principles for how to achieve Positive Handling Control, Escort and Restraint in the pursuit of Non-Harmful Control of Children and Young People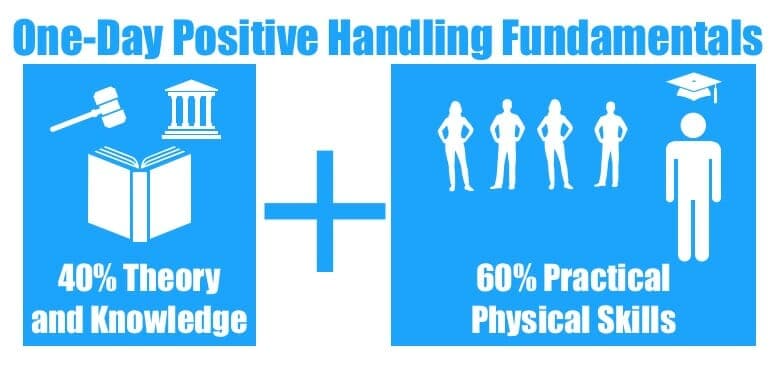 "Gerard was very professional at all times.  Recommended to our Head Teachers' local delivery group – this positive handling training would benefit all of our local schools.  Excellent.  Thank you."
Very thorough, well explained.  The practical training was excellent and the positive handling theory work before was really good too!  Many thanks!
"Extremely useful insights into the laws behind the advice.  Good examples and easily followed advice.  Our children and staff will be safer."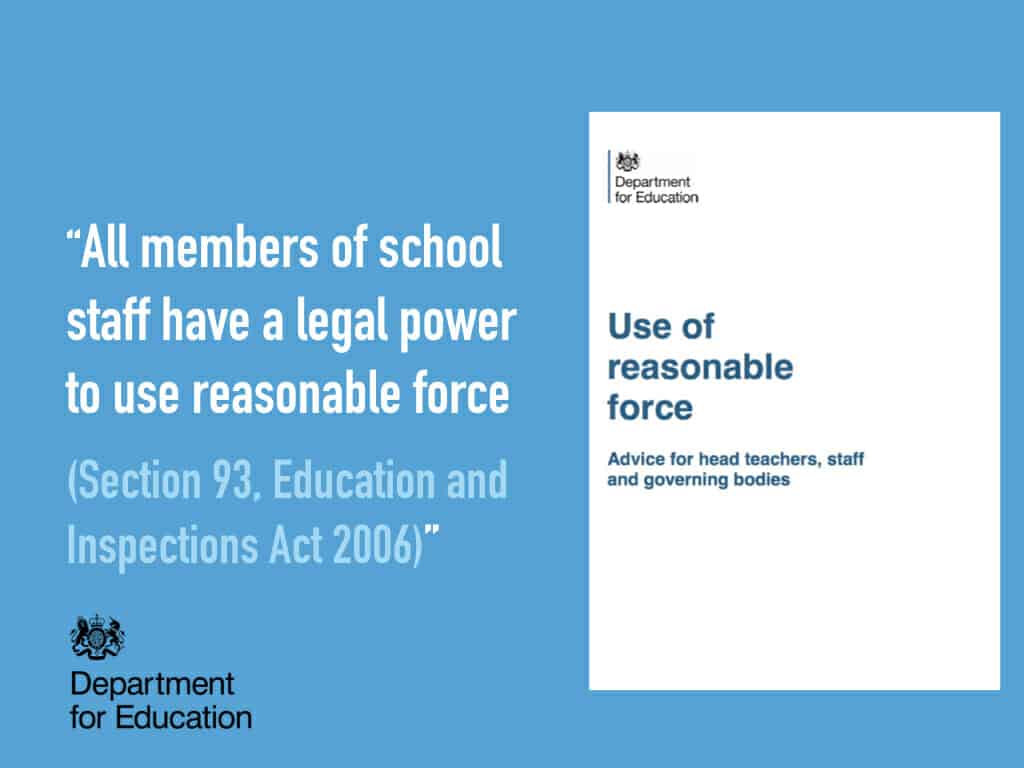 Feedback on Positive Handling Training:
Due to Gerard's professionalism, knowledge and experience, I feel they gave me the confidence to use the skills I learnt during the session if the need should ever arise. Inclusion Manager – Mainstream Primary
Excellent trainer- engaging, good pace, good use of scenarios.  It was very practical and engaging. I especially liked the final session where we given different scenarios. Even though this made the heart rate go up, it made it more real and helpful as you had to think on the spot and apply what we had learned. – Class Teacher – Mainstream Primary 
Gerard made the learning accessible and was able to cater for scenarios that may occur in the environment. Gerard answered questions by quoting cases that had been in the public eye to bring home the danger of some situations – Deputy Head Teacher – Mainstream Primary 
Really well explained ideas and techniques backed up by academic theory. The day was very practical which help to internalise what we were taught. I'd have loved to have practised for even longer!  Very enjoyable and I learnt lots that I didn't know before. Thank you. – Teaching Assistant – Mainstream Primary 
Have attended a different provider for physical restraint, your training was much better.- Classroom Teacher – Mainstream Primary 
Fantastic Learning Experience with excellent delivery !  The Trainer delivered the course very well and was very detailed and the contents of the course is very relevant and informative. He used everyday live experiences to elaborate on various contexts. Fantastic Learning Experience ! – Teaching Assistant – Special School
Our trainer was personable and knowledgeable, he supported and modelled techniques well helping us to gain confidence. An excellent course. – Deputy Head Teacher – Mainstream Primary 
Training was much more useful and practical than prior sessions I've been to on the same thing. – Teaching Assistant – Mainstream Primary
OPTIONS TO ACCESS:
One Full Day:   9.30am to 3.30pm on a day when you can release your team…
This option gives your staff the most practice time and question/answer time with the trainers.  Assimilation of the material and retention of the physical skills is optimal with this duration.  Schools will usually choose this option if they have a well-identified need for training in physical interventions with particular high-risk children. For dedicated SEN, Learning Disability or EBD settings we also have a 2-day option which is recommended for higher-risk care environments.
---
Half Day or Twilight Session:  AM, PM or After-School on ANY date convenient for your team…no need for an INSET day!
Sometimes a school with limited time, or with infrequent incidents at a low level of risk will need our concise half-day course.  We can use our online courseware, with individual logins, progress tracking and test scores based on video presentations and knowledge-checks to prepare your staff on the required knowledge and theory for positive handling, and then visit onsite with you on a convenient day to spend time developing the necessary physical skills to manage situations.   Half-Day and Twilight sessions can start at 0930 or 1230 or 1530 for example.  Flexible to your schedule!   Find out more…
60 min or 90 min Briefing:  when time is of the essence and you need basic information quickly…
This is a legal briefing on the rules and principles of physical interventions in school settings only, with no physical skills development for the staff.  It can be useful to establish a baseline of knowledge school-wide or to give the management team essential knowledge.  We sometimes begin one of the above options (a full or a half-day) with a Whole-School legal briefing to baseline your team's understanding.
Popular:   A 90-minute information briefing in the AM for your whole-school, followed by specialist training in both decision-making AND physical skills over the rest of the training day for a "behaviour management team" hand-picked by your SLT.
---
Blending all of the options:   for the best fit of critical information for the right teams…
Depending on where the risks have been identified, schools will blend all of the above to get the right level of training across all of their staff team.  Just get in touch to start a discussion about how we can best meet your needs and your budget.
HAVE QUESTIONS?
WHAT:  a tailored Positive Handling Training course for your school team which is based on the Department of Education Guidance on the Use of Reasonable Force.  It is based on an educationally accredited OFQUAL-recognised vocational qualifications in Positive Handling and subject to our Institute of Conflict Management Quality Award systems.
WHEN:   on a day of your choice for an INSET or Twilight session (see OPTIONS FOR ACCESS above).
WHERE:  at your school, in a classroom or gym hall large enough to carry out the Positive Handling Training safely
HOW LONG:     See the OPTIONS FOR ACCESS above for options which suit you.
WHO:  Teachers, Learning & Support Assistants, Deputy Heads, Head Teachers, Governors can all benefit from Positive Handling Training.
Our typical groups are teams of 12 to 16 staff.   We can by arrangement train larger whole-school groups or smaller teams.
If your staff team are considering the restraint of a child at your school using physical interventions according to a positive behaviour support plan, then our Positive Handling Training training will assist you in carrying out interventions in a lawful, professional and sensitive way which reduces overall risk.
Other course options include | Conflict and De-Escalation Course | Twilight or Half-Day Courses |
WHY:
✓ Matched to your Positive Handling needs 
✓ Led by Professional Positive HandlingTrainers 
✓ Legally Audited to match DofE Positive Handling Guidance 
✓ Fully Risk-Assessed Positive Handling Training Plans 
✓ Values Dignity and Respect for appropriate Positive Handling 
✓ Safeguards Children's rights during Positive Handling interventions  
✓ Offers School Staff Practical Options for Positive Handling  
✓ Compliant with Positive Handling Government Regulations  
✓ Value for Your Positive Handling Investment
The training course from Dynamis fulfilled or exceeded expectations

99.6%

99.6%

Our instructor from Dynamis had a very good or excellent level of knowledge and competence

98.2%

98.2%

The theory and knowledge components helped me professionally

98.9%

98.9%

The techniques and tactics were appropriate to real scenarios in our work

98.6%

98.6%

Our Dynamis trainer observed good Health and Safety practices - the training was safe

100%

100%

The Dynamis training course was of the right duration to gain the skills and knowledge I needed

91.2%

91.2%
Take a look at our Feedback Survey Scores for the past year!


"Excellently delivered, full of common sense and informative. Great course,

 

would highly recommend"
-> Deputy Head Teacher @ Phoenix Place
"Professionalism and experience documenting scenarios - excellent"
-> Alternative Provision Manager @ The East Manchester Academy
"I found the course helpful. It has helped me feel more confident when conducting certain aspects of my role."
-> Teacher @ Aspire Academy